CPA Takes Part in AIPPI China-Japan-Korea Trilateral Meeting
The 9th AIPPI Trilateral Meeting involving China, Japan and Korea Groups was held in Busan of Korea during 7-8 May 2010. China Patent Agent (H.K.) Ltd. (CPA) was represented at the meeting by Mr. WEN Dapeng, Deputy Director of its Shenzhen office and Mr. WANG Yue, Manager of Electronic and Electrical Department of its Beijing office.
This year, AIPPI China joined the annual event with a 31-strong delegation, a largest delegation it has ever sent for the purpose, under the leadership of its vice presidents Mr. MA Hao and Mr. YANG Wu.
The meeting has directed discussions to two topics, namely, "Comparative Studies on Inventive Step" and "Latest Developments in Intellectual Property Laws and Practice". Deputy Director Mr. WEN Dapeng and Mr. DONG Zheng, Director of the Department of Treaty and Legal Affairs of the State Intellectual Property Office (SIPO), gave talks on the two topics respectively.
Deputy Director Mr. WEN Dapeng delivering a talk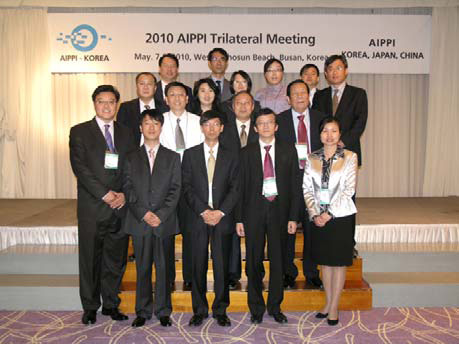 Part of the AIPPI China delegation to the Trilateral Meeting