European Commission Publishes Annual Report on EU Customs Actions to Enforce Intellectual Property Rights
In 2009, EU Customs took action in 43,500 cases involving several million products suspected of being counterfeited or pirated at the external borders of the EU. This is according to the Commission's annual report on EU Customs Enforcement of Intellectual Property Rights (IPR), which was published on 22 July 2010. Cigarettes, clothing and brand labels were among the main articles stopped by customs on suspicion of IPR infringements. However, products for daily use and posing a potential danger to citizens' health, such as shampoos, toothpaste, toys, medicines or household appliances, also accounted for a significant part.
Main findings of the Report
The Report shows an upward trend in the number of goods suspected of violating intellectual property rights. In 2009, over 43,500 cases of such goods were stopped by customs, totalling 118 million articles. The report notes that, while in the past luxury goods were the most hit by IPR infringements, more and more items used by citizens in their daily lives are now affected. Of the top categories detained, cigarettes accounted for 19%, other tobacco products 16%, labels 13% and medicines 10%. China continued to be the main source of IPR infringing products, totalling 64% of the total of IPR infringing articles while other countries such as United Arab Emirates and Egypt accounted for the majority in certain product categories. More than 77% of all detained products were destroyed or a court case was initiated to determine the infringement.
1 Countries of provenance according to detained articles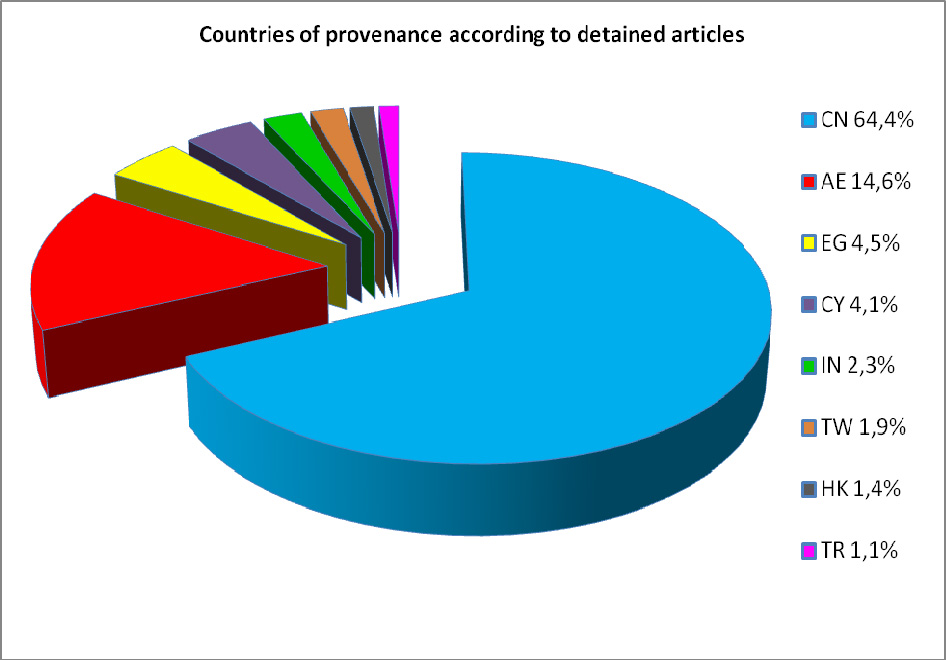 2 Overview per product sector of countries of provenance
Breakdown of number of articles detained expressed as % by provenance and by category (2009)
1. Foodstuffs, alcoholic and other beverages
57.36% Turkey
26.04%

USA
6.28%

Uruguay
5.07%

China
2.86%

Tunisia
2.39%

Others
 
 
 
2. Body care items
46.81%

China
21.35%

UAE10
13.38%

Italy
8.17%

Turkey
3.91%

Syria
3.04%

Indonesia
1.91%

Hong Kong
1.40%

Others
 
3. Clothing and accessories
72.48%

China
6.45%

Turkey
5.40%

Poland
4.07%

Estonia
2.01%

Russia
1.44%

Germany
1.35%

Greece
1.33%

Thailand
5.47%

Others
4. Shoes including parts and accessories
90.18%

China
2.74%

Singapore
2.30%

Greece
1.17%

UAE
3.61%

Others
 
 
 
 
5. Personal accessories
74.38%

China
9.49%

Morocco
5.62%

Hong Kong
3.20%

Unknown
2.50%

Thailand
1.32%

Greece
1.15%

Malaysia
2.34%

Others
 
6. Mobile phones incl. parts and accessories
79.06%

China
12.94%

Hong Kong
4.44%

UAE
1.98%

Pakistan
1.58%

Others
 
 
 
 
7. Electrical / electronic and computer equipment
81.01%

China
14.06%

Hong Kong
1.51%

Israel
1.18%

UAE
2.24%

Others
 
 
 
 
8. CD, DVD, cassettes, game cartridges
34.58%

China
32.19%

Taiwan
30.90%

UAE
2.33%

Others
 
 
 
 
 
9. Toys, games (incl. electronic game consoles) and sporting articles
63.42%

Egypt
31.77%

China
2.69%

Hong Kong
1.24%

UAE
0.82%

Others
 
 
 
 
10. Tobacco products
68.30%

China
15.92%

UAE
11.30%

Cyprus
1.44%

Greece
1.26%

India
1.78%

Others
 
 
 
11. Medical products
73.71%

UAE
22.60%

India
1.41%

China
1.31%

Syria
0.97%

Others
 
 
 
 
12. Other
92.34%

China
2.05%

Hong Kong
1.49%

UAE
4.13%

Others
 
 
 
 
 
(Source: the official website of European Commission)