CPA Staff Get Good Results in 2010 Beijing Marathon
It was wet and windy in the early morning of 24 October, not quite the weather for a marathon perhaps. Yet, regardless of the weather, more than 30,000 participants from different parts of the world showed their marathon spirit by turning up promptly in keen anticipation of the 2010 Beijing Marathon.
CPA has 20 staff members taking part in this year's event. Of them, Ms. Zhu Hongli from Electronic & Electrical Department of its Beijing office was joined by Mr. Andrew Chung of Patent Application Department and Mr. Kenny Wong of Trademark Department from its Hong Kong office for a full marathon of 42 km, while the rest of the CPA runners signed up for the mini marathon.
It is good news and a pride shared by every one at CPA that Ms. Zhu and Mr. Chung not only pulled through to the end, but also managed to reap good results in the challenging races. Among the 597 women who completed the full distance, Ms. Zhu ranks 149th with a finish time of 3:52:46, whereas among the 3,997 men full-distance finishers, Mr. Chung stands 1,543rd with a finish time of 3:54:5.
Ms. Zhu, Mr. Chung and all of the other CPA staff who have participated in the games have exhibited to us what man can do with perseverance and hard work, even in the face of a seemingly impossible mission. Actually this also echoes the spirit of CPA, as embodied in its staff's constant strive for the best, in favourable or in adverse times.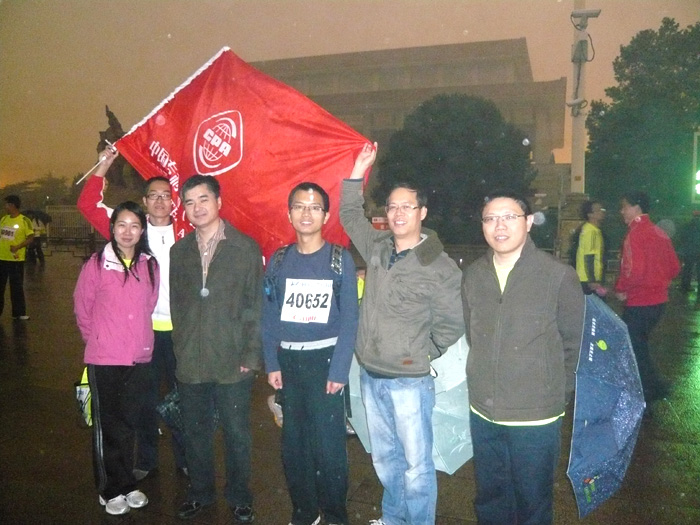 Mr. Kong Zhiqiang, director of CPA Beijing office (fourth from the right), with CPA marathon runners.