All-China Patent Agents Association Holds Annual Meeting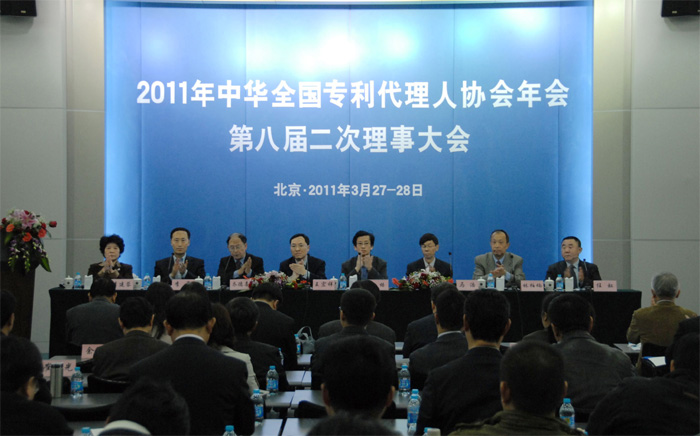 All-China Patent Agents Association (ACPAA) convened its 2011 annual meeting on 27-28 March in Beijing. The meeting was attended by more than 300 participants, including senior officials from the State Intellectual Property Office (SIPO) and the Supreme People's Court of China, industry experts, as well as representatives from nationwide patent agencies and major enterprises.
During the session, the 2nd Intellectual Property Forum was concurrently held, discussing topics covering patent agencies' operational management and culture building, patent agency and examination practice, enterprises' patent-based technical innovation and patent strategy, and electronic filing of patent applications.
It was learnt during the meeting that SIPO has initiated a project on strengthening patent agencies' professional capability. According to the plan, eight patent agencies will be selected respectively from 12 provinces or autonomous regions within the country, then guidance and assistance will be provided by SIPO to the selected patent agencies to improve their management standard and agency capabilities.
Focus of the project will also be put on training for patent agents. SIPO in cooperation with ACPAA will start to provide practice capability reinforcement training for all patent agents throughout the country on rotational basis within the year. Moreover, ACPAA will request that each individual patent agent meet its continuing education and training requirement by completing at least 12 hours of lesson annually, of which at least 6 hours have to be devoted to programs organized or approved by ACPAA. In addition, an instructor pool will be set up to facilitate the implementation of training programs hosted by SIPO and ACPAA.
As reported, China currently has 801 patent agencies, representing an increase of 5% from previous year, whereas the number of patent agents has grown 7% to 6,450. At SIPO, it intends to expand its existing team of 5,530 patent examiners to 10,000 by 2015. By now, patent examination has speeded up obviously, with examination cycle shortened to, by average, about 24 months for patent applications for invention, 4.3 months for utility model, and 3 months for design. With active promotion by SIPO, electronic patent application has seen some major development within the past year, close to 60% of patent applications were made through the e-filing system as of March 2010.