While slowly advancing toward its 3% R&D target, EU sees a widening gap with its world competitors. Between 1995 and 2008, total research investment in real term in the EU rose by 50%, compared to 60% in the US, 75% in the knowledge-intensive Asian economies of Japan, Korea, Singapore and Taiwan, 145% in the BRIS countries (Brazil, Russia, India and South Africa), and 855% in China. The report foresees that China is set to overtake EU in terms of volume of R&D expenditure by 2014.
Although Europe is still the first producer of peer-reviewed scientific publications in the world, with 29% of the world production in 2009, ahead of the US (22%), China (17%) and Japan (5%), it is, however, losing ground as regards the exploitation of research results. The share of the EU member states' patent applications in the European Patent Office (EPO) has declined from 44.8% in 2000 to 44.2% in 2007, partly attributive to expensive filing and patent maintaining cost in the region.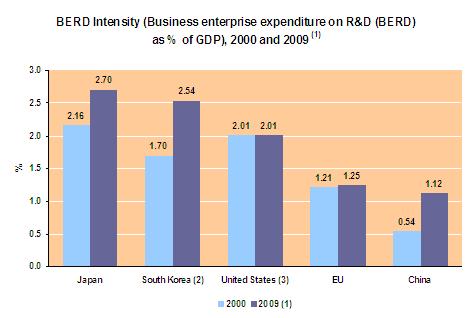 Notes: (1) US, JP, CN, KR: 2008. (2) KR: (i) There is a break in series between 2008 and the previous years; (ii) BERD for 2000 does not include R&D in the social sciences and humanities. (3) US: BERD does not include most or all capital expenditure.