CPA Staff Runs 2012 Hong Kong Marathon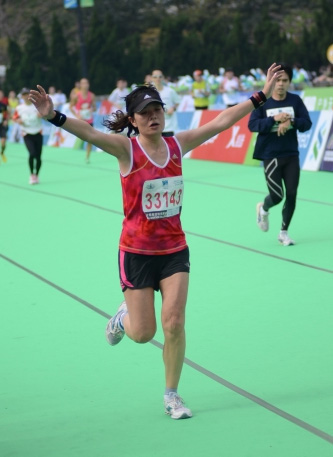 The 2012 Hong Kong Marathon was held on Sunday, 5 February, celebrating its 16th year with phenomenal registered participants amounting to 70,000. A staff member from China Patent Agent (H.K.) Ltd. (CPA)'s Beijing office, Ms. Zhu Hongli, also participated in its full marathon section.
Zhu reaped satisfactory result in the race, ranking 83rd among the 1,120 female runners of her group. Even happier news was that she finished her fourth marathon since 2009 with a best personal record of 3 hours 52 minutes 37 seconds, which is 41 minutes 39 seconds faster than her previous marathon in Hong Kong two years ago.
The Hong Kong race is known to be tough for the high humidity and difficult routes. When asked what has motivated her to take up the challenge, Zhu compared the course of a marathon to that of life. As she said, each race gave you a fresh goal to sweat over, by participating with an aim for continuous improvement on your former self, you could always find inner peace and self-contentment after real devotion to the preparation and finding yourself in a new height in life.
Isn't this a perfect echo of the theme of "Run for a Reason" of this year's race?