CPA Attends 2012 China Trademark Annual Meeting
The eighth China Trademark Annual Meeting sponsored by China Trademark Association (CTA) was held in Kunming of the Yunnan province on 3-5 September 2012.
Convening on the 30th anniversary of the promulgation of the Trademark Law of China, the meeting had a main forum focusing on the implementation of national trademark strategy and review of the achievements made in registration, use, protection and administration of trademarks in China over the past three decades.
In addition there were sub-forums covering the themes of: international trademark law in practice, agricultural products trademarks and geographic indications, trademark protection of China, Madrid international registration of trademark, typical trademark cases, legal provisions and treatments for European geographic indications protection and European trademark registration in bad faith.
China Patent Agent (H.K.) Ltd. (CPA) was represented at the meeting by the firm's deputy general manager Mr. Luo Hong and deputy manager of Trademark Department at its Beijing office Mr. Yin Longzhi.
Mr. Luo was invited to moderate the lecture on trademark protection of China held in the morning of 4 September, and Mr. Yin was one of the three guest speakers contributing to the topic.
Mr. Luo and Mr. Yin were further invited to the China-Japan round table of trademark protection. Both of them then made use of the opportunity to exchange with their counterparts from Japan Patent Attorney Association and had detailed discussion with them regarding trademark law and practice of the two countries.
The meeting was attended by 850 participants from home and abroad, including officials from the State Administration for Industry and Commerce of China (SAIC), the Trademark Office (CTMO) of SAIC, and the Trademark Review and Adjudication Board (TRAB) of SAIC, judges from Beijing Municipal Higher People's Court, as well as representatives from World Intellectual Property Organization (WIPO), International Trademark Association (INTA), Office for Harmonization in the Internal Market (OHIM), and judicial, legal and industrial practitioners from 15 countries including the US, the European Union, Japan and Korea.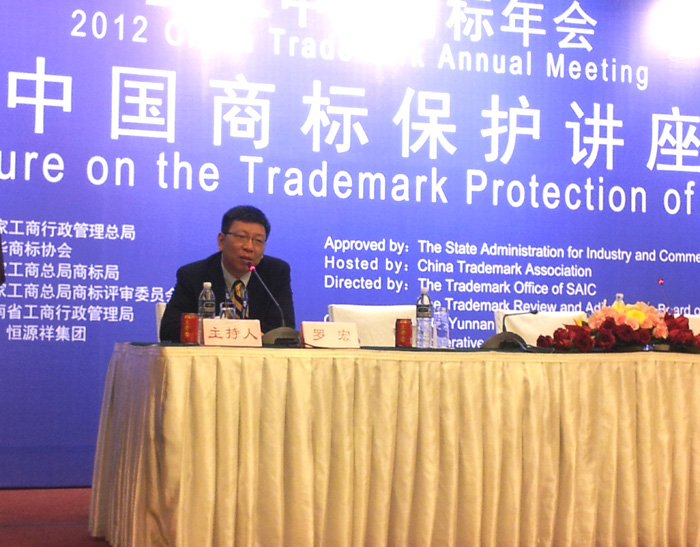 Deputy general manager Mr. Luo Hong moderating the lecture on trademark protection of China
Mr. Luo Hong (first from the left) acting as moderator and Mr. Yin Longzhi (first from the right) as expert commentator at the lecture