CPA Attorneys Invited to Speak at 2012 Global Patent Congress in Denmark
The 2012 Global Patent Congress was held in Copenhagen, Denmark on 24-26 September 2012. China Patent Agent (H.K.) Ltd. (CPA) was glad to have been invited to the congress, with its delegation comprising Mr. Deng Ming, director of its Munich office, and Mr. Xiong Yanfeng, patent attorney from Legal Affairs department at its Beijing office, who were both guest speakers for the occasion.
The congress was attended by over a hundred representatives from companies, legal firms and government agencies across the continents of Europe, America and Asia. Speeches on a wide variety of topics were made by experts from World Intellectual Property Organization (WIPO) and European Patent Office (EPO) as well as major international corporations, such as Google, Royal Philips, Nokia Siemens Network, P&G, and Adobe. The presentation by Mr. Xiong from CPA focused on China's patent litigation in practice.
During the session, the CPA delegation made extensive exchanges with their foreign counterparts, in particular regarding patent application and exploitation specific to their respective jurisdictions. They also made time to meet some clients and IP firms in the vicinity to maintain dialogues with clients in that part of the world.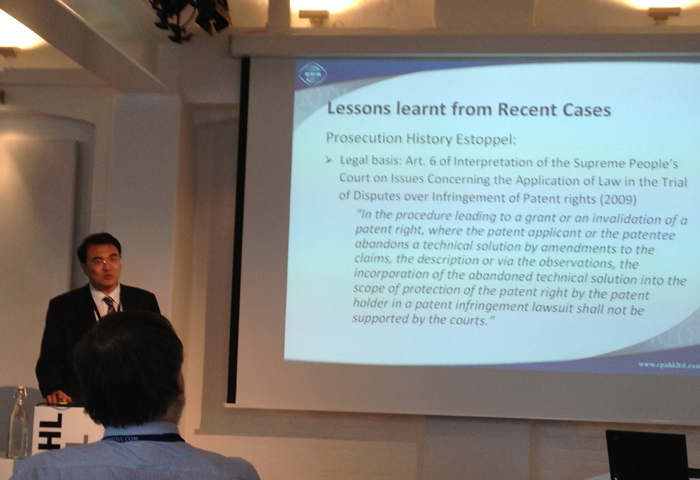 Mr. Xiong Yanfeng presenting on patent litigation in China