CPA Attorneys Fare Well Again at 2012 ACPAA Thesis Contest
China Patent Agent (H.K.) Ltd. (CPA) is glad to report that its attorneys continue to fare well at this year's All-China Patent Agents Association (ACPAA)-sponsored thesis contest.
The theme of the 2012 ACPAA thesis contest is "Theory and Practice of Article 26.4 of the Chinese Patent Law". Compared with 130-plus entries last year, 254 contributions from patent examiners and patent attorneys nationwide were received this year. After review of the works submitted, the jury commended 29 papers as outstanding pieces.
Another paper authored by CPA patent attorney Ms. Zang Jichen in collaboration with SIPO examiner Mr. Wang Zhihua was also recognised as outstanding writing. The paper studies Article 26.4 of the Chinese Patent Law in comparison with related European legislations and PCT regulations.
The award presentation ceremony was held in Beijing on 21-22 November 2012 during the ACPAA-sponsored symposium for the paper presentation and further discussion on the theme of the contest.
The symposium attracted an attendance of close to 400 industry practitioners, including officials and patent examiners from the State Intellectual Property Office (SIPO), judges from courts of Beijing municipality, and patent attorneys from major domestic IP law firms.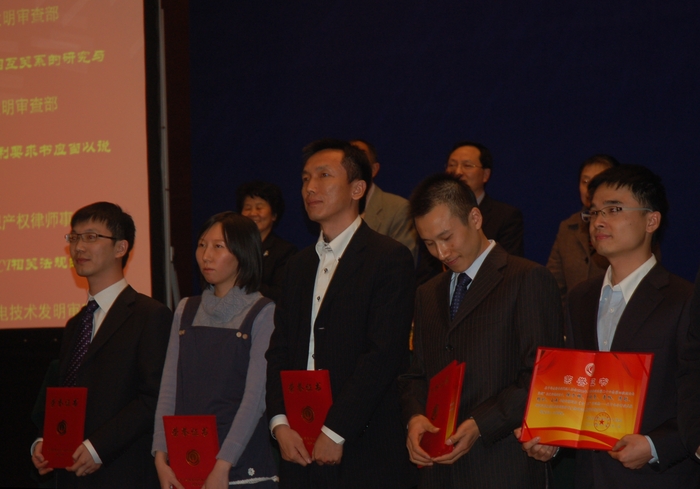 CPA attorney Mr. Mao Liqun (middle, front row) among other authors of outstanding entries at award presentation ceremony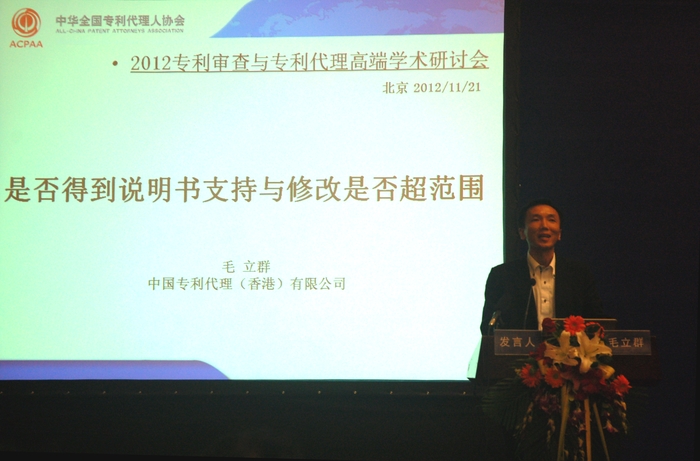 Mr. Mao presenting on his paper at the symposium