IAM's IP Business Congress China Explores IP Value Maximisation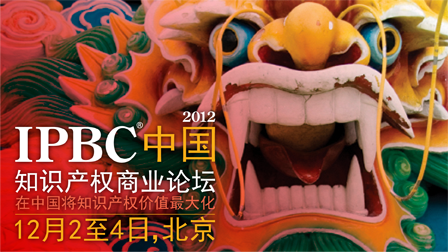 On 2-4 December 2012, the first IP Business Congress (IPBC) China was hosted by Intellectual Asset Management (IAM) Magazine in Beijing.
Carrying the theme of "IP equals money", the congress explored issues in IP value creation, such as valuation of intellectual property and growth of IP-based investment opportunities. In particular, it provided Chinese IP corporate owners with advice on how to build an effective in-house IP function, secure greater operational flexibility and access the financial markets; as well as outlined the opportunities, challenges and pitfalls they face when taking their intellectual property abroad.
The congress gathered 450 participants, including those from leading domestic and international companies, patent law firms, financial intermediaries, and news media. China Patent Agent (H.K.) Ltd. (CPA) was invited to the event, and representing the firm were its deputy general manager Ms. Tina Tai, Beijing office deputy director Mr. Kong Zhiqiang, and editorial members of its IP journal China Patents & Trademarks.
In the lead-up to the IPBC China, IAM had undertaken a survey to identify the courntry's IP value creation leaders, termed as China IP Champions. To determine who are employing best practices to maximise the potential of their intellectual property, the survey conducted months-long researches collecting data on patent applications and grants and IP transactions of the Chinese IP owners, and interviewing leading individuals from the Greater China and international IP community for their opinions.
As a result of quantitative and qualitative analysis of the data, a total of 33 Chinese corporates and institutions were identified and named as China IP Champions. The results announcement and award presentation ceremony were held at a gala dinner during the session on 3 December.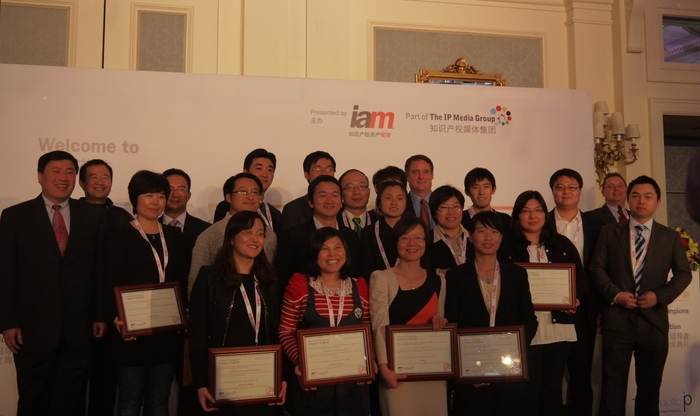 Representatives of the China IP Champions receiving the award at gala dinner