CPA Attorney Speaks at Global Patent Congress 2013
Global Patent Congress 2013 was held in Copenhagen, Denmark during 24-26 September 2013. This year's congress gathered nearly two hundred attendees from companies and IP law firms across the globe.
China Patent Agent (H.K.) Ltd. (CPA) was a participant of the congress by invitation. Representing the firm were Mr. Deng Ming, director of CPA Munich office, Mr. Xiong Yanfeng, deputy manager of legal affairs department at CPA Beijing office, and Mr. Ma Yongli, deputy manager of electronic & electrical department at CPA Hong Kong office.
At the congress, a number of speakers from major multinational companies, including IBM, Philips Electronics, Agilent Technologies, Nokia Corporation, Panasonic Corporation, and Infineon Technologies, shared their knowledge and strategies related to issues such as brand protection, patent litigation, portfolios management, licensing, and anti-counterfeiting.
Among the speakers was Mr. Xiong Yanfeng, who gave an update on China's patent developments, in particular relating to the draft of the fourth revision of the Chinese Patent Law, IP statistics from courts and patent office, and recent influential IP-related court decisions in China.
During the session CPA delegates took the chance to discuss with their foreign counterparts various aspects of IP law and practice in China. They also visited some German and Danish firms during their Copenhagen stay to gain better understanding of the clients so that more focused services can be provided to our clients.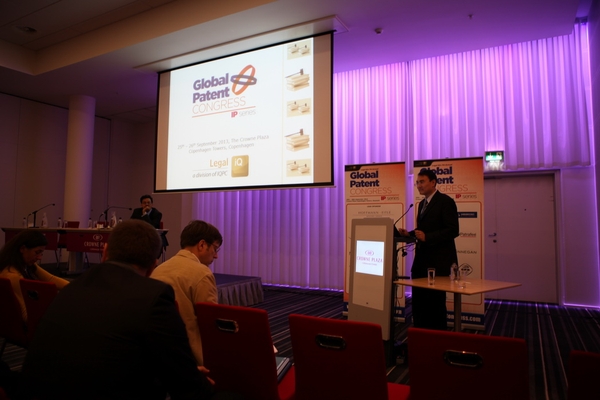 Mr. Xiong Yanfeng speaks on recent patent developments in China.