CPA Senior Counsel Attends FICPI 14th Open Forum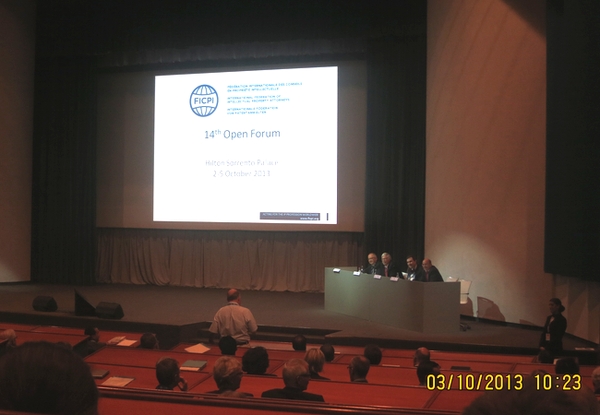 The 14th Open Forum of International Federation of Intellectual Property Attorneys (FICPI) was held in Sorrento, Italy on 2-5 October 2013.
This year's program comprised a plenary session and breakout sessions. The plenary session focused on the theme of "Designing and Maintaining a Profitable Firm that will have a Future", whereas the breakout sessions discussed a variety of topics by the three streams of patents, trademarks/designs, and general issues.
Topics covered by the breakout sessions included:
Patents - unity of invention and restriction requirements; right of priority; latest development of computer-related patent issues; Unified Patent Court and its rules of procedure; getting invention protection and patent grant quickly; enablement and disclosure across the scope of the claims; extension to

term of protection for pharmaceutical patents.

Trademarks/designs -

recent development of European trademark system reform; issues associated with specifications of g

oods and

s

ervices;

i

nternational

d

evelopments in

d

esigns

law;

losing and r

eclaiming

t

rade

m

ark

r

ights

.

General issues - electronic exchanges and docketing

b

etween

o

ffices of

a

ssociate

f

irms

;

large clients and in-house advisors

'

expect

ation

from an IP attorney by way of strategic advice

; i

nternal

a

udit

c

ommittees

as

q

uality

c

ontrol in a

f

ast-

m

oving

e

nvironment

; international business model of m

ultiple

l

ocations

in an increasingly virtual world

.
During the forum, veteran judges, officials and attorneys from different countries including the US, Germany, the UK, Australia, Italy, France, the Netherlands, Norway, Sweden, Japan, Canada, Brazil, Korea and China contributed their knowledge and views from the perspectives of their own jurisdictions.
Apart from the open sessions, FICPI concurrently convened its executive committee meeting as well as Work & Study Commission (CET) sub-group meetings during the forum. The latter allowed members of individual sub-groups to examine IP protection issues central to their respective concerns.
Next year's FICPI open forum was scheduled to be held in November in Barcelona, Spain.
The forum gathered 380-plus attendees from more than 60 countries and regions.

China Patent Agent (H.K.) Ltd. (CPA) senior counsel and FICPI China chapter vice president Ms. Jenny Wang also attended the event, during which she

made extensive exchanges with delegates from various countries and regions.