CPA Staff Participates in 2014 Vibram® Hong Kong 100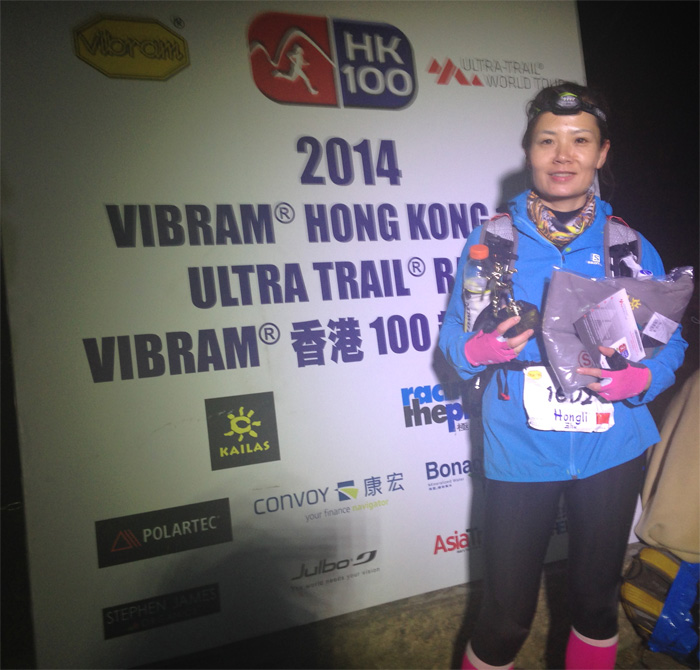 On 18 and 19 January 2014, Vibram® Hong Kong 100, an ultra endurance race that takes place in Hong Kong, ran for its 4th edition. The race this year is not only the first stop for the inaugural Ultra-Trail World Tour, but also a qualifying event for the 2015 Ultra-Trail du Mont-Blanc® and Western States 100-Mile Endurance Run.
The 2014 Hong Kong 100 attracted 1,648 local and international runners, with 70.33% of them being able to complete the full course within a time limit of 32 hours. We are glad to share that Ms. Zhu Hongli, a staff member of China Patent Agent (H.K.) Ltd. (CPA), is one among them. She finished 68th in women's category and 564th in overall standing with a time of 20 hours 41 minutes 6 seconds, thereby earning a bronze award (which is presented to runners finishing within 24 hours).
The 100 kilometers course is both scenic and challenging. Based around the Maclehose Trail, it routes through some of the territory's most beautiful scenery of unspoilt beaches, nature trails, forest, and reservoirs. At the same time, it is steep and hilly, involving a cumulative ascent of 5,100 meters, among it a climb to the territory's highest peak Tai Mo Shan (at 957 meters), and a cumulative decent of 4,600 meters.
For Ms. Zhu, like many of her fellow runners, there were struggles to overcome on the way. She did have been slowed down by a pain in the lower leg and set back further by her headlamp breaking into pieces uphill at dark. She was, however, not distracted by the physical pain and unexpected accident, and managed to persist to the finish line with dedication and discipline.