CPA Participates in 136th INTA Annual Meeting in Hong Kong

The 136th Annual Meeting of International Trademark Association (INTA) was held on 10 -14 May 2014 in Hong Kong. This is the first INTA annual meeting ever held in Asia. Coincidently, this year also marks the 30th anniversary of China Patent Agent (H.K.) Ltd. (CPA). Further, the event took place mainly in and around Hong Kong Convention and Exhibition Centre, which was in close vicinity of the firm's headquarters.
Seizing this occasion, CPA participated actively in the event with a delegation of 25 members, including its general manager Mr. Zeng Xiangling, deputy general managers Mr. Luo Hong and Ms. Tina Tai, senior counsel Mr. Li Yong, and assistant general managers Ms. Kathryn Fu and Mr. Wang Jingchao.
On 11-12 May, in a hospitality suite it had engaged specially for meeting industry practitioners, CPA's representatives made extensive contacts and exchanged views with their counterparts from across the globe, and provided them with updates on IP industry in China as well as the firm's business profile and activities.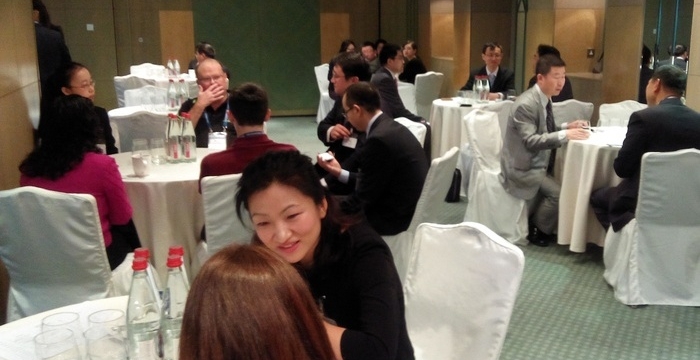 CPA representatives meet clients and associates from across the globe.
In the evening of 11 May, CPA hosted a reception in Renaissance Harbour View Hotel Hong Kong, entertaining hundreds of industry practitioners from different corners of the world. It was a delight to see that the guests enjoyed the evening very much, and relaxed themselves in joyous, enthusiastic discourses on subjects of interest.
The CPA representatives in the reception all have red scrafs draped around the neck or over the shoulders. Red in
Chinese culture is a colour of joy and luck, which are what we would like to bring to our guests from near and far.
During the session, CPA also attended a number of receptions hosted by foreign firms. Whereas concurrently at the headquarters, CPA's senior management and department managers were busy receiving foreign clients from scores of companies who visited its Hong Kong office while staying in town for the event.
The event this year attracted 8,500 delegates from more than 140 countries. Among other programs, it offered eight education sessions with a focus on Asia, covering topics such as substantive case law updates, and trademark law and practice in the region. The 2015 INTA meeting is scheduled to be held in San Diego, the US.