QBPC Holds Symposium on IP Protection of Multinational Companies & Announces Cases of Best Practice in IP Protection 2013-2014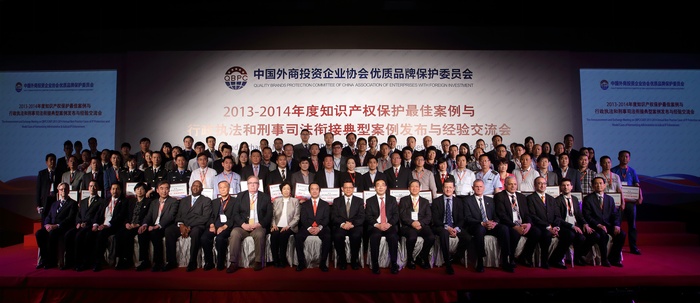 On 15 May 2014, Quality Brands Protection Committee (QBPC) of China Association of Enterprises with Foreign Investment held the Symposium on Intellectual Property Protection of Multinational Companies in Beijing.
The symposium was attended by over 300 guests, including leaders of relevant Chinese authorities such as Supreme People's Court, Supreme People's Procuratorate, National Development and Reform Commission, Ministry of Science and Technology, State Administration for Industry and Commerce, State Intellectual Property Office, and Legislative Affairs Office of the State Council, as well as representatives from foreign embassies in China, chambers of commerce, academic institutions, domestic enterprises, and QBPC member companies.
A highlight of the symposium was the third exchange meeting between QBPC and Office of the National Leading Group for Combating IPR Infringement and Counterfeits. At the meeting, issues of concern to multinational companies including online sale of counterfeits and protection of trade secrets were discussed in depth.
During the same occasion, the cases of best practice in IP protection and the model cases of harmonizing administrative and judicial IP enforcement for 2013-2014 were also announced. After a process of nomination by QBPC members and ballot of its executive committee, 10 most influential and typical cases were selected as best practice cases respectively for each of the criminal and the non-criminal categories, and 5 model cases of harmonizing administrative and judicial IP enforcement were identified this year.