CPA Attends APEC CEO Summit 2014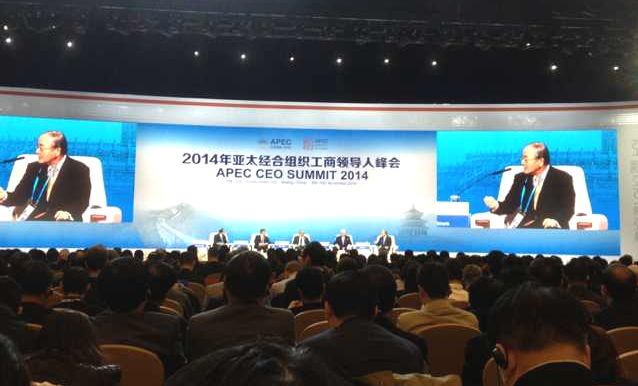 On 9-10 November 2014 the Asia-Pacific Economic Cooperation (APEC) CEO Summit 2014 was successfully convened in China National Convention Center in Beijing. As a high-level business event held prior to the annual APEC Economic Leaders' Meeting, APEC CEO Summit provides an opportunity for business leaders in the Asia-Pacific region to engage in discussions with regional leaders, academia and other top business executives on issues facing the region.
This year's summit brought together 1,500 attendees from 21 Pacific Rim member economies and 17 other countries and regions. China Patent Agent (H.K.) Ltd. (CPA) was glad to have the opportunity of participating in this significant event upon invitation, and representing our firm were general manager Mr. Zeng Xiangling and Beijing office deputy director Mr. Wu Yuhe.
The summit was opened by Chinese President Xi Jinping, who, echoing this year's theme of "New Vision for Asia Pacific: Creativity, Connectivity, Integration and Prosperity", proposed the Asia-Pacific Dream in his keynote speech. President Xi elaborated that the dream is about a new regional economic landscape built on mutual trust, inclusiveness, and cooperation out of a sense of shared destiny of the region. And the dream can be achieved by partnership of individual economies which drive to turn their distinctive advantages into new growth potential, which adopt an open economy to share the outcomes of the diversification and differentiation, and which sustain the growth with infrastructure and software development, and increased connectivity.
The summit has discussed a range of topics of interest to the region including challenges and success stories of growth, agenda priorities of economic reforms in different economies, new opportunities for regional cooperation, inclusive growth as an answer to rising global inequality, and policies to facilitate regional connectivity.