CPA Deputy General Manager Invited to Speak at ACPAA & SIPO Joint Training Programme for Senior Examiners & Attorneys of Chemistry Field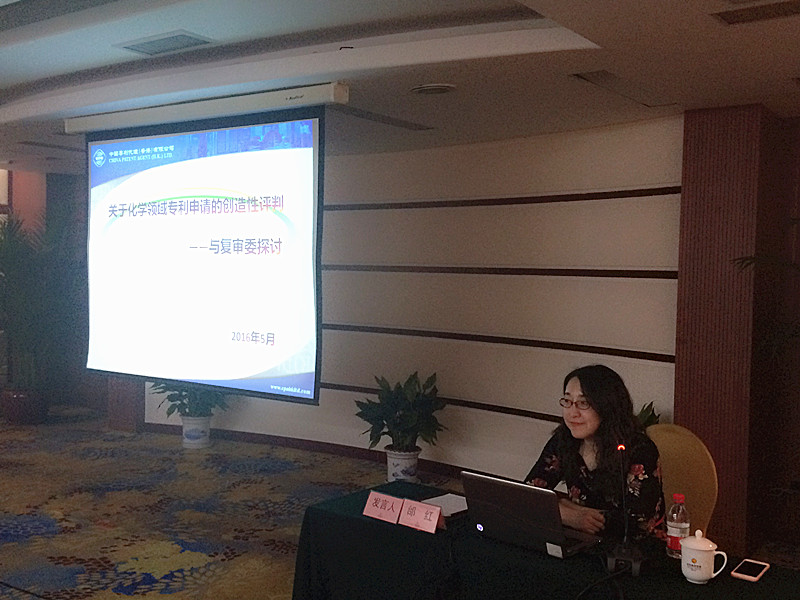 On 18-19 May 2016, a training and exchange programme for senior patent examiners and attorneys of chemistry field organised by All-China Patent Attorneys Association (ACPAA) in conjunction with Patent Reexamination Board and Chemistry Invention Examination Division of the State Intellectual Property Office of China (SIPO) was held in Beijing. The event was attended by over 80 participants, including relevant department heads and patent examiners from SIPO as well as senior patent attorneys of the chemistry field.
China Patent Agent (H.K.) Ltd. (CPA) deputy general manager Ms. Tina Tai was invited to attend the event, and Ms. Tai, as the sole representative of patent attorneys to speak for the occasion, made a presentation on the assessment of inventive step in chemical patent applications. During her presentation, she analysed with the illustration of typical cases some heated issues relating to said subject in terms of known knowledge, supplementary experimental data, reidentification of the technical problem based on distinctive technical features, and positive comments. She also put forward some ideas and suggestions on current examination practice. Her presentation aroused serious discussion and strong interest of the topic from the attendees.
The training programme also covered other topics such as effective responses to inventive step-related examination opinions during reexamination stage, progress achieved in the adjudication of reexamination and invalidation cases, and evaluation of inventive step from the perspective of inventive concept.