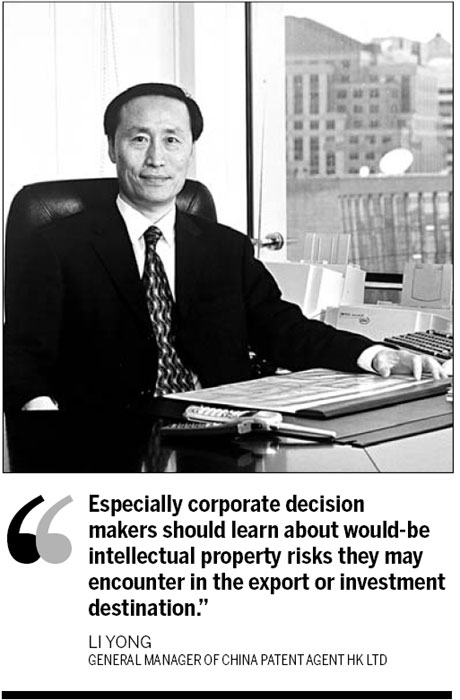 Domestic companies interested in international markets should place more emphasis on due diligence before embarking on their overseas venture, said Li Yong, general manager of China Patent Agent (CPA) HK Ltd.
Gathering information and analyzing data as part of preparations is crucial to success in gaining a foreign foothold, he said.
Research on the legal environment and the intellectual property of potential competitors should be central to a business plan, Li said.
As a growing number of Chinese companies have begun to go abroad, how to avert legal risks in intellectual property is becoming an increasingly important issue.
"When inking a deal, businesspeople tend to be concerned about price and payment terms - yet it also pays to give attention to intellectual property investigation," said the veteran patent attorney, who began his intellectual property legal work in 1984.
"Especially corporate decision makers should learn about would-be intellectual property risks they may encounter in the export or investment destination," Li said.
Many Chinese entrepreneurs have long lacked awareness about prior research, Li said, but added that a few large companies such as Sinopec Group have been more prudent.
More than 90 percent of CPA's clients that commission prior investigation and analysis are from abroad, according to Li.
Negligence in research is now a contributing factor in result in growing intellectual property disputes that could have been prevented.
Some domestic entrepreneurs that dismissed the significance of the prior investigation have experienced painful failures, Li said, who added that is an expensive way to learn.
Prevention better
"Preventive management is always better than attempts to resolve conflicts afterwards," Li said.
Compared with hundreds of thousands of dollars in export profits, thousands of dollars to hire a law firm to conduct pre-marketing research is just "a small justifying investment", he said.
As well, fees for patent applications are also far less costly than legal proceedings costs that could total to $1 million to $2 million.
Enhancing research and development capacity, expanding the intellectual property pool and building a strong in-house team for intellectual property are also among Li's suggestions.
Keeping in regular contact with reliable law firms to "borrow brain power from outside" also helps a company better maintain rights, Li said.
Founded in 1984, CPA is one of the three first agencies designated by the State Council to handle foreign-related intellectual property business.
While its name seems to imply it handles only patents, the company covers the gamut of intellectual property from patents, trademarks, copyrights, domain names, competition compliance and others.
The bulk of CPA's clients, unsure of China's intellectual property environment, were often concerned about local protectionism in some regions and even suspected that the courts always rule in favor of the Chinese.
"As a matter of fact, our survey results showed just the contrary - more than 50 percent of total rulings in foreign-related infringement cases were made in favor of foreigners," Li said.
Failed claims are often the result of inexperienced attorneys or lack of evidence, he added.
"Our clients have come to realize that China has made solid progress in intellectual property environment," Li said.
They have found that parties involved in a dispute are treated alike, whether they are foreigners or Chinese, Li said.
Agency service
As vice chairman of the All China Patent Agents Association, Li noted that "an emerging trend at home and abroad" is for intermediary agencies to extend their business further along the industrial chain.
Along with providing aid to secure, maintain and use intellectual property rights, agencies are now playing a more active role in client businesses.
New tasks include helping formulate intellectual property strategies, offering training and participating in research and development to identify technologies for patent application.
At the same time, trading and licensing of patents, trademarks and copyrights, as well as intangible asset evaluation and intellectual property issues in acquisitions and mergers are new highlights of agency business.
The national association has released a code of professional ethics and regulations on patent agent internship management and selection of specialists at an executive board meeting held in Beijing last week.
The trade organization also established minimum service criteria last year.
All the moves focus on improving the quality of service and boosting confidence in the industry, Li said.
"Our goal is to increase patent agents nationwide from the current 7,000 to 10,000 professionals before 2015," Li said.
(China Daily 07/14/2010 page17)