Appreciation Ceremony for 10 Best-Practice Cases in IP Protection & Modal Cases Harmonizing Administrative and Criminal Enforcement Held in Beijing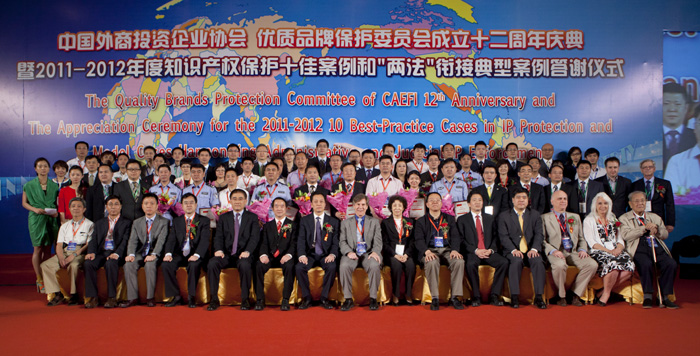 Representatives from the winning law enforcement agencies with the top officials at the ceremony
On 25 May 2012, the Quality Brands Protection Committee (QBPC) of China Association of Enterprises with Foreign Investment (CAEFI) held its 12th Anniversary and the Appreciation Ceremony for the 2011-2012 10 Best-Practice Cases in Intellectual Property Protection and Modal Cases Harmonizing Administrative and Criminal Enforcement in Beijing.
During the ceremony, Vice Minister of Commerce Mr. Wang Chao made a speech and presented prizes to recognized law enforcement agencies. Present at the ceremony were top officials from the Supreme People's Court, the Supreme People's Procuratorate, the Ministry of Public Security, the Ministry of Commerce, the General Administration of Customs, the State Administration for Industry and Commerce, the General Administration of Quality Supervision, Inspection and Quarantine, the General Administration of Press and Publication, the State Intellectual Property Office and other relevant departments, diplomatic envoys to China, and guests from the US, EU and Japanese chambers of commerce, well-known international and domestic IP organizations, trade associations, educational and research institutions and media, together with representatives of some 200 QBPC member companies.
The 10 best-practice cases awards has been held by QBPC on annual basis since 2002. The event is to recollect and summarize IPR cases of member companies, and to acknowledge efforts of law enforcement agencies in IPR protection. The IPR cases were nominated by member companies according to four categories, namely, of criminal prosecution, trademark infringement, IPR customs border protection, and other non-criminal prosecutions. The modal cases awards was launched this year by QBPC in alignment with the Chinese government's working opinions on facilitating effective harmonization of IP administration and criminal enforcement.